Gathered Threads Bulk Herbs - Oat Straw !Sale!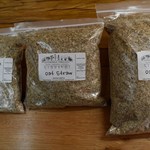 Category: Bulk Foods, Tea & Coffee
25% off Our Farm Grown & Dried Bulk Herbs
This is our 2019 harvest of this herb

Oat Straw - Avena sativa - straw

Our herbs are grown without the use of pesticides and chemical fertilizers in Roseland, Va (Nelson County). We believe and practice sustainable practices for our own health, the health of the plants and animals, and the harmony of the environment.
Tags
Local
Sustainable Practices
Available At These Locations
Gathered Threads Saturdays 9-12
|
IX Art Park Farmers Market Saturdays 9-1
Purchase
2.5 % 2.5% VA Food Tax